The Venice-Simplon Orient Express is a one-of-a-kind experience that every traveler should encounter in a lifetime. From iconic routes that traverse France and Italy set in luxurious and stylishly appointed train cars filled with a storied past. The ride offers an unforgettable journey. With a unique combination of comfort and cultural immersion, you will be able to enjoy some of the most spectacular sights from the comfort of your plush private cabin.
A journey on the Venice-Simplon Orient Express is the epitome of a luxurious European travel experience– from the ambiance to the service, to the cuisine. Step aboard and be whisked back to an age of timeless nostalgia and glamour. We did and loved every minute of the experience!
The Epitome of Luxury Travel During a Bygone Era
The Orient Express first started running in 1883, and throughout the early 20th century, the train was the preferred mode of transportation for royalty, diplomats, socialites, artists, and celebrities. Today, the train continues its legacy of luxury and status and offers iconic multi-day experiences, one-night rides and afternoon tea experiences. Luxury Italian Tours can plan the rest of your itinerary.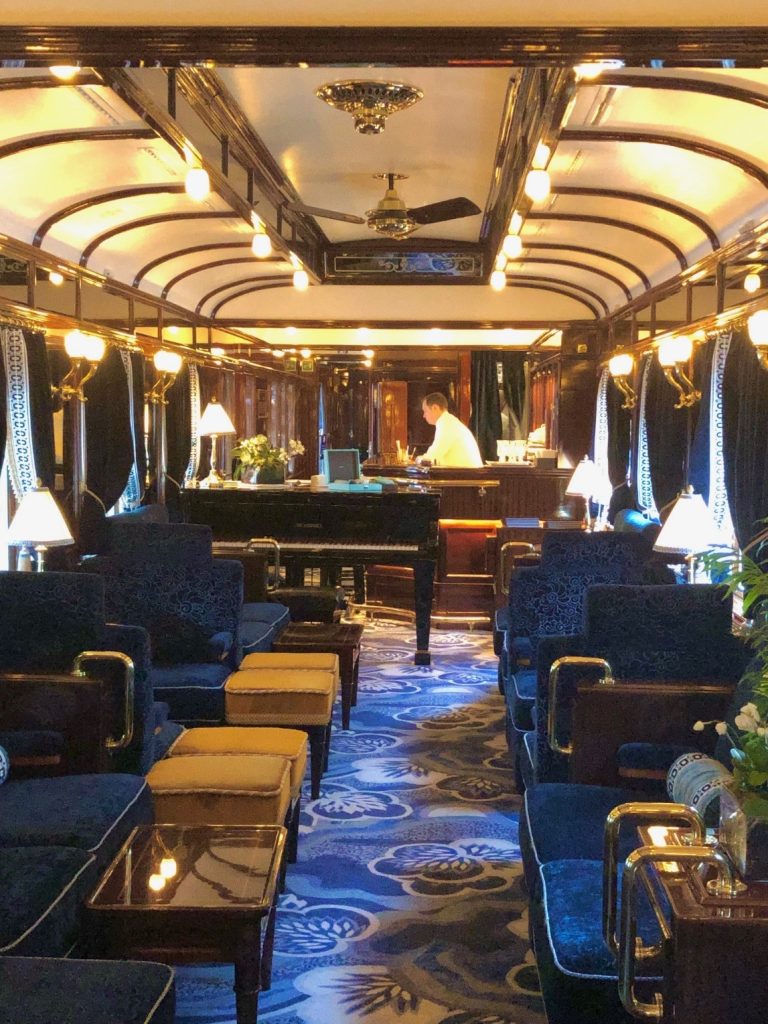 Spectacular Landscapes, Food, Entertainment on Board
The pampering begins when you set aboard. Our personal butler popped open a chilled bottle of Veuve Clicquot and set the fluted glasses next to a spread of sandwiches and other bites. As we pulled out of the train station with numerous onlookers waving and taking photos of the iconic train, it was time to sit back and gaze at landscapes, small towns and historic sites along the way while sipping our bubbly and having our glasses topped by our personal butler.
After setting in, the dining car manager came to our door to offer a choice of two sittings for dinner. We opted for the earlier sitting to enjoy more time in the bar café afterwards. We also had a choice to dine in one of the three dining cars that each offer a different décor – L'Oriental has a chartreuse palette, Etoile du Nord has green plush velvet dining chairs and Côte d'Azur has a deep electric blue décor.
The meal was spectacular and soon we were clinking glasses with our new friends.
Be Entertained All Evening
Travel in beautifully decorated and refurbished 1920s cars while gazing at the scenery. After dining on fine cuisine and sipping wines from an exceptional wine list, you can move to for a night cap in the iconic Bar Car '3674.' Sip some more bubbly or a cocktail while listening to the resident singer and piano player.
A Once in A Lifetime Experience that Should Be on Your Bucket List
It truly is an unforgettable journey on what is perhaps the world's most famous railway line – one that no one should miss out on experiencing at least once in their lifetime!