Coffee lovers who travel to Italy have the opportunity to drink some of the finest coffee found anywhere in the world. In fact, the agricultural ministry to Italy's national UNESCO commission is presenting a bid to the U.N. body's headquarters in Paris to have their espresso be given heritage status.
Italy currently holds such status for a slew of customs and traditions including truffle hunting, Neapolitan pizza, the Mediterranean diet, Sicilian puppet theater, and the craftsmanship that created Stradivari violins. Soon, the country may very well have official bragging rights for their espresso, too.
The art of drinking coffee is embedded in Italian culture with almost the entire population drinking a cup every day. Italians take their coffee seriously…very seriously. And the last thing you want to do as a tourist is fumble the time-honored tradition with a faux pas.
Show your appreciation by preparing yourself in advance to enjoy this ritual like a true Italian. If you want to drink like a local, you need to follow some basic coffee rules while in Italy. The keys to your coffee-drinking success? You need to know what you order, at what time of day to drink a certain style of coffee and where and how you drink it.
Italians Drink Espresso
When you saunter up to the counter to order a "caffè", there is only one type of drink you will get: an espresso. There will not be a plethora of options in size, flavors, or sweeteners. This is not Starbucks.
Don't call it an espresso, either. Just call it a caffè because for Italians, a "coffee" IS an espresso. The espresso will be served in a shot glass and it is served up strong. If you need an extra jolt, order a doppio espresso which are two espresso shots.
If you care for milk in your espresso, don't order a latte. Latte is the Italian word for milk so ordering a latte will simply get you a cup of milk. However, if you like your coffee creamy, you can lighten up that espresso by ordering a macchiato, which gets you an espresso with a dash of steamed milk.
If you're looking for something more like what you get back home, you can have it but you will certainly not be ordering like a true Italian. In fact, you will have to order a caffe ́ Americano, which is an espresso with added hot water served in a regular coffee cup, with or without milk and sugar.
Finally, you can enjoy the mother of all white coffees, the cappuccino, which tops an espresso with a generous dollop of frothy steamed milk and may be accompanied by a sprinkle of chocolate.
Which leads us to our next set of tips…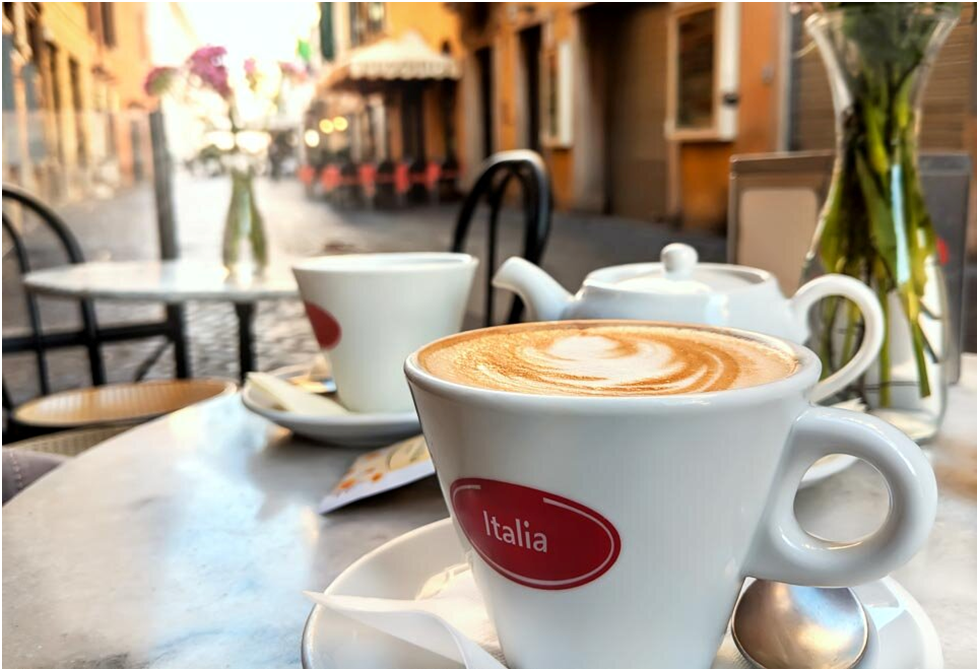 Never Order Cappuccino After a Meal
If you want to honor the Italian coffee culture, you will never, ever order a cappuccino after a meal. It's not that Italians don't drink coffee after meals, because drinking an espresso is acceptable, even after dinner.
It's that Italians believe that dairy interferes with the digestion process so they never, ever order anything with milk after eating. In fact, if you want to adhere strictly to the unwritten rules of drinking coffee in Italy, milky coffees are only consumed in the morning.
If it is after 11 am, stick to the one-worded order, caffè. Before 11 am, be daring and order up a frothy variety if it suits you. After a few successful counter encounters, you may want to branch out and try one of these other iterations of espresso:
Ristretto: a little bit of water added to a caffe
Lungo: a bit more water added to coffee
Macchiato: coffee with a splash of milk
Corretto: coffee with a shot of grappa
Schiumato: espresso capped with a dollop of hot milk foam and
Granita: a Sicilian recipe made with coffee and ice topped with whipped cream. A popular drink in summer.
Master these choices and you will be sipping like a pro!
Coffee is Sipped at the Bar
Coffee is meant to be sipped and savored at the local bar. Most Italians order right at the counter, which provides an opportunity to socialize, gossip, and discuss football before beginning their day.
If you ask for a coffee to go, be prepared for some glares as you will have violated the most important cardinal rule. So, hang out at the counter and maybe you'll even pick up a few Italian words. You will certainly be warmly welcomed.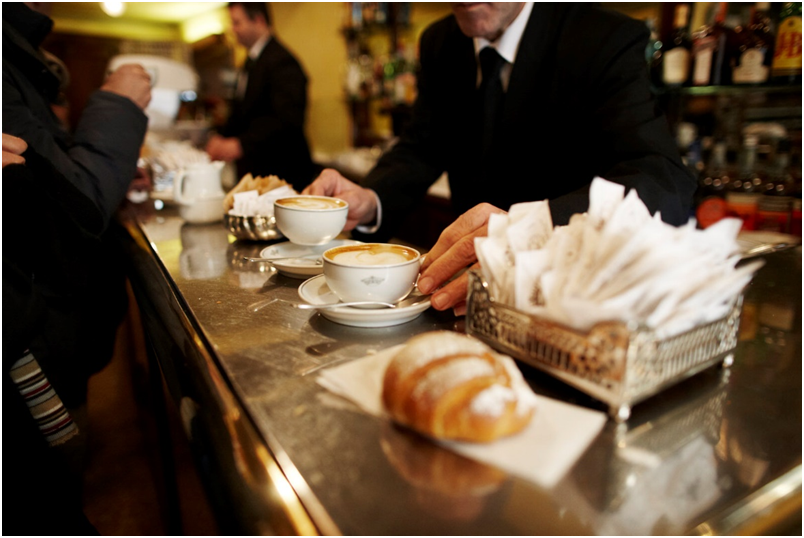 Heading to Italy?
If you are planning to visit Italy to partake in the rich culture, tastes, and sights found in the cafes and well beyond, we can help. From finding the perfect luxury villa for your friends and family to organizing a custom itinerary , we are the partner every discerning traveler needs.
While there, test your Italian style coffee techniques at these favorite spots:
Rome – If you are searching for the ultimate espresso, head to Café Eustachio in the Eternal City. Located behind the Patheon, it has been an institution for Romans since 1938. The thick foam that tops each coffee is made by a secret technique. So secret that the baristas' hands are hidden by a barrier. The espresso is exceptional. Don't miss the experience. Piazza di San Eustachio, 82
Florence – With three locations across the city, Ditta Artigianaleis Italy's original specialty coffee company. Coffee beans are sourced worldwide and roasted in Tuscany and brewed daily in Firenze. Here you can order your cappuccino with almond milk, flat whites, or coffee made using AeroPress or V60 filtering techniques. The menu items are worthy too. Via dello Sprone, 5n(near the Ponte Vecchio), Via dei Neri, 30/32 R (near the duomo) and Via dei Carducci 2R (largest location in the Sant'Ambrogio neighborhood).
Venice – Opened in 1720, Café Florian is the oldest café in the world. Sip your coffee in Baroque splendor under the arches in San Marco's Square. The café is pictured below. Piazza San Marco 57.
Milan – Owned by Prada, the Italian iconic fashion powerhouse, Marchesi 1824 embodies Milanese style since its opening in 1824. The café is seeped in history and is faithful to traditions and artisanal products. Specialties are prepared by hand using high quality ingredients. Via Monte Napoleone, 9.
Naples – In the center of the city, Café Gambrinus is a landmark 19th-century coffee house with an elegant interior – a contrast to the laundry strewn across the neighboring narrow streets. In a bygone era, this café was a meeting point for intellectuals, politicians and businessmen. Via Chiaia, 1 and Piazza Trieste e Trento, 42.
Noto – For the best view of the Baroque cathedral and the best cannoli in Italy, Caffe Sicilia is a must stop. Opened in 1892, Carlo and Corrado Assenza are the fourth generation in their family to run this institution. Corrado incorporates his chemistry and biology background to create awe-inspiring flavors to its pastries which are perfectly paired with a café! Corso Vittorio Emanuele, 125.