Sit back as your captain speeds you away from the bustling crowds in Venice to enjoy three charming islands located less than an hour off the coast. Welcome to Burano Murano & Torcello.
Burano is a sixth-century fishing village, known for its lace-making and colorful homes. Murano is the world-famous island where artisans have been producing stunning glassworks since the 13th century. Torcello is lovely to explore with its stunning greenery, ancient churches and Locanda Cipriani, a boutique inn and restaurant counterpart to the famous Harry's Bar on the Grand Canal. The next time you're in Venice, these islands possess their own unique flavor and promise a great escape from the throngs of tourists and pigeons found in Piazza San Marco.
Burano: The Island of Lace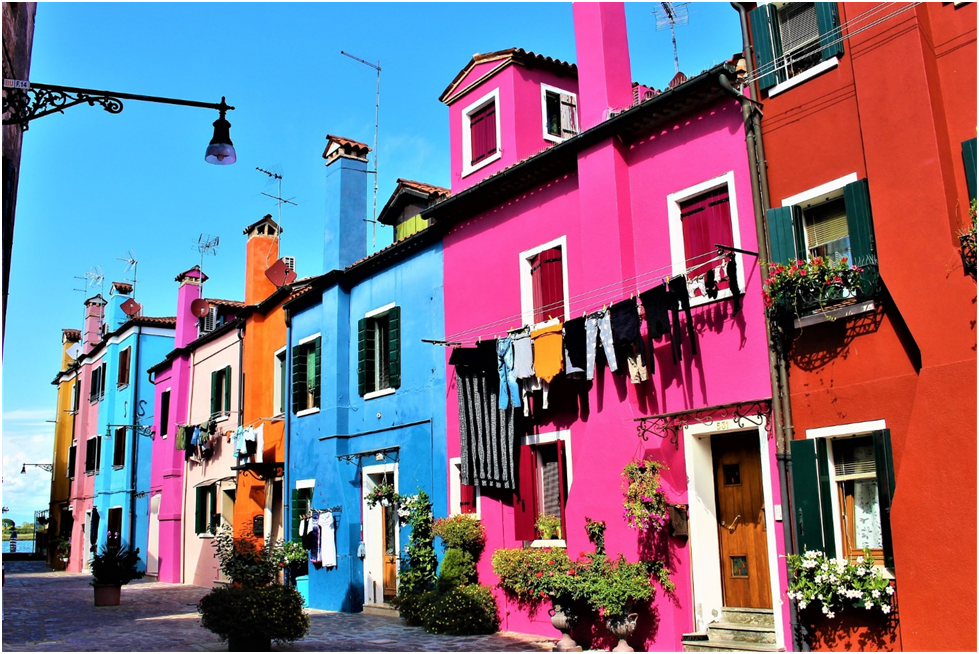 This quaint and beautiful town of Burano is located 40 minutes off the coast of Venice. When you pull up to its shores, you'll be greeted by the tilted Bell Tower of the Church of San Martino. It stands out amid homes and businesses painted in vibrant hues of red, blue, orange, and lavender. The vivid colors are said to have guided fishermen to their homes through the fog when returning from sea.
These colors are not determined randomly. There is a specific system that has been followed for centuries. If property owners wish to paint their buildings, they must request permission and a selection of permissible paint colors from the government.
Like Venice, Burano is an archipelago. It consists of four individual islands separated by narrow canals, which you can traverse using a series of picturesque footbridges. The island rose to artistic importance in the 16th century when women on the island began making its famed lace. It became particularly desired after Leonardo da Vinci visited and purchased the cloth from the main altar of the duomo in Milan.
Soon after, the lace was in demand across Europe. Nowadays, there are few artisans left who make lace in this traditional manner, as it is extremely time-consuming and expensive. However, the ladies who carry on the tradition are eager to invite visitors into their shops to admire their handiwork. And you can stop by the Museo del Merletto, a museum dedicated to the island's lace-making tradition.
Another of Burano's claim to fame is a sweet treat called the Bussola Buranello, which translates roughly to compass of Burano. In a salute to the island's marine traditions, these cookies come shaped in either a backward letter S or an outline of a circle. The flavorful bites are especially popular during Easter holiday, and on feast days, locals often dip them in wine before eating them. Their smell is so deliciously aromatic that packages of Bussola Buranello were once used to scent closed drawers, making them an ideal souvenir to toss in your suitcase.
Murano: The Island of Glass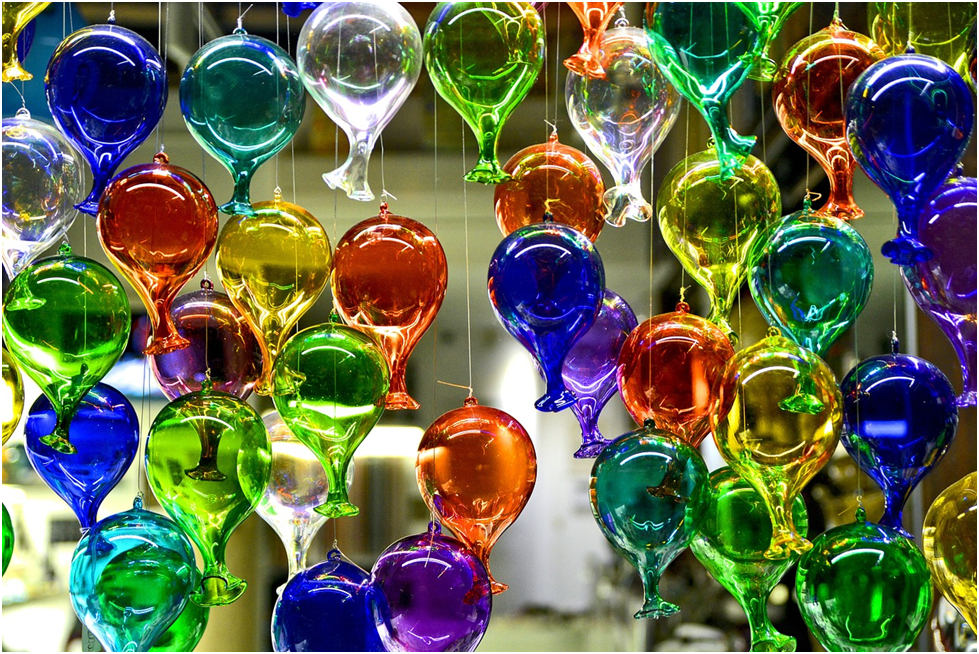 Murano became a center of glass-making when the Venetian Republic ordered its glass makers to move their factories to the island in 1292. This was done to avoid the potential threat that their fiery works would set other Venetian buildings ablaze. By the 14th century, these glass makers were so highly regarded that they were afforded special privileges, including immunity from persecution by the Venetian state. There are many places to purchase beautiful glass pieces in and around Venice, but on Murano, you can head to the Museum of Glass in the Palazzo Giustinian for a demonstration of how craftsmen still employ 500-year-old techniques to create products from small figurines to elaborate chandeliers decorated with semi-precious gems.
The latter end up adorning the homes of the world's wealthiest citizens from Arab sheiks to Russian tycoons. At the museum, the artisans reveal how they incorporate different materials and tools to achieve different kinds of glass. Varieties of Murano glass include smalto (enamel glass), aventurine with threads of gold embedded into the glass, millefiore, which displays a kaleidoscope of colors, and lattino (milk glass). The production process begins with silica, commonly found in sand, or quartz, both of which liquefy at high temperatures. The "lampworking" technique used to melt the glass into a molten state is named for the oil-heated lamps that were originally used for the purpose though glass fuel torches are used today.
Once the glass is heated into a workable form, artisans use a canna da soffio, or blowing pipe and borselle (long tongs or pliers) to form the red-hot glass and a pontello, or iron rod, to make finishing touches. Once you've seen the glass makers in action, head around the corner and have a peek at the Church of Santa Maria in San Donato. Legend has it that the bones of a dragon slain by San Donato are buried on the church grounds.
Torcello: The Island of Escape
The oldest of the three islands, Torcello was a safe haven where Venetians flocked to escape barbarian invasions 1,600 years ago. Torcello rapidly grew in importance as a political and trading center. By the 10th century, its population has exceeded that of the Republic of Venice. But in the 12th century, malaria epidemics caused residents to flee. And today, Torcello has less than 50 permanent residents. In 1941, Torcello, reemerged as a different kind of safe haven for those trying to escape from the Germans during World War II.
Giuseppe Cipriani was then the owner of the famous Harry's Bar on the Grand Canal in Venice, from which would stem many Cipriani restaurants worldwide. He closed the restaurant during the war because he refused to comply with the German demands that he forbade entry to Jews and fled to Torcello when he founded Locanda Cipriani, the island's famous inn and restaurant. Ernest Hemingway would eventually join Cipriani on Torcello, where he would write the novel Across the River and Into the Trees. The estate with its beautiful gardens has also hosted famous names such as Charlie Chaplin, Paul Newman, and the British royal family.
In addition to planning a stay or a meal at Locanda Cipriani, while on Torcello visit the beautiful Cathedral of Santa Maria Assunta. Built in 639 AD, it contains a vast collection of Byzantine artwork, including many mosaics. If you have limited time, all three of these remarkable islands can be visited in one day.
Let Luxury Italian Tours book your boat and captain and get away from the crowds and enjoy these unique and historic islands.